Good evening Sweeney Stars! Reminder that tomorrow, Monday January 17th there is no school due to Martin Luther King Jr. Day. Last week, students brought home an order form for Spirit Wear. If you are interested in ordering anything, please send the order form and cash payment with your child no later than Tuesday January 18th. Picture retake day will be Monday January 24th. Thank you and have a good night!

Please enjoy this holiday rendition of Feliz Navidad, performed by Windham students by accessing the video archive on the District's website.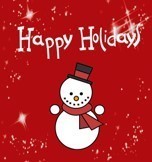 Good evening Sweeney Star families, This message is on behalf of Katie Firth, interim principal. Thursday Dec. 9 & Friday Dec. 10 will be early dismissal days for parent/teacher conferences. Students will be dismissed at 12:30, please remember to have an adult at the bus stop for K-2 students. Conferences will be held in person and all Covid mitigation strategies will still be followed. This means masks are required for entry into the school and we will be social distancing as much as possible during the conference. If you are feeling unwell please reschedule. Thank you for limiting participants attending the conference as space is limited. Thank you for your cooperation and diligence with keeping us all safe. Also, to benefit PTO, parents can bring $1 to conferences to purchase a special pencil and message for your student that will be given to them after or during your conference. Have a great night!
Reminder that Picture Day is tomorrow, Wednesday December 1st. Money and order forms can be sent in with your child or you can pay online. All students will have their picture taken. Sneakers must still be worn.
Good evening Sweeney Star Families. This message is being sent on behalf of Interim Principal Katie Firth. Wednesday November 24th is an early dismissal at 12:30. On Wednesday November 24th it is also a dress down day to raise money for the (Parent Teacher Organization) PTO. Students can pay $1 to their teacher and dress down. Sneakers please. There is no school on Thursday November 25th and Friday November 26th. I want to wish everyone a restful and happy Thanksgiving! We look forward to seeing all students back on Monday November 29th.
Good evening Sweeney Stars! This is a reminder that there is no school tomorrow, Thursday November 11th due to Veterans' Day. Sweeney School would like to honor and thank all those who have served our country!
Reminder that Sweeney's first PTO meeting will be tomorrow, Monday October 25 from 5-5:45 p.m. Join us in person in the Sweeney gym or virtually on Google Meet. Contact your child's teacher for the Google Meet link.
Good evening Sweeney Star families. This is a reminder that there is NO SCHOOL on this Friday, October 8th due to Staff Development day. There is also NO SCHOOL on Monday, October 11th due to Indigenous Peoples' Day.
Good evening Sweeney Stars, this is Katie Firth Interim principal. We have had a great week! Thank you to everyone who filled out the dismissal forms. More information will come out about that once we have them all sorted. You can use your Windham app to go to documents and click on the Digital Backpack Forms which has information about Biddy basketball and other community announcements. Thanks for all of your support!
Good evening, Sweeney Star families. This is Katie Firth, Interim Principal. For the peach-colored dismissal form that was sent home, please remember to write your child's name on it or you can complete the electronic form. We need these forms (either electronically or by paper) by Friday October 1st . Thanks for your help with this. We hope you are interested in joining our PTO, and would love for your to send the purple sheet back so we can get you involved. I am looking forward to a GREAT week ahead with your students! 😊
Good afternoon Sweeney Stars! Your child is bringing home the following documents: • Attendance Highlights • Uniform Policy • PTO Form • Dismissal Form Please review these. The dismissal should be returned to school as soon as possible. You can also fill it out online by clicking the link below:
https://forms.gle/RboVzeN8m4jjFrng7
Good evening Sweeney Stars! Please make sure you review the Parent/Student Handbook for information on school policies, attendance, and more! The handbook can be found under the For Families tab on our website.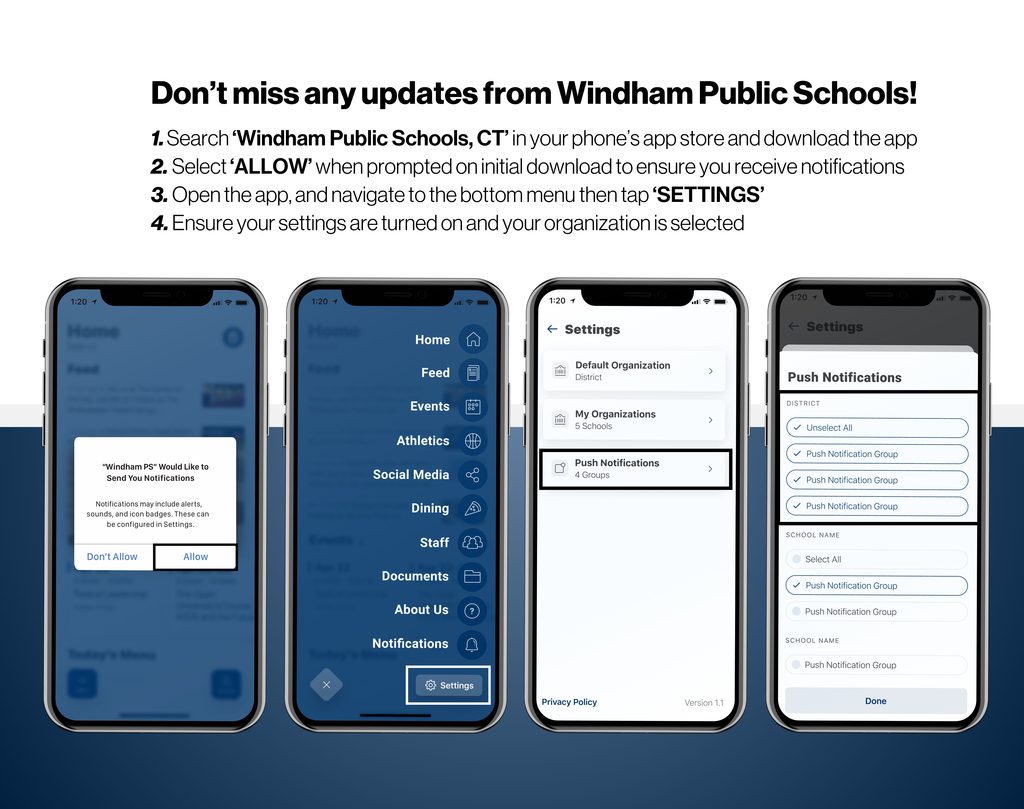 Good afternoon Sweeney families. The bus company has informed us that the buses are running 15-20 minutes late due to an accident in town. We appreciate your patience. Buenas tardes familias de Sweeney. La compania de autobuses nos ha informado que hay un retraso de 15 a 20 minutos debido a un acidente en el pueblo. Apreciamos su paciencia.
Good evening Sweeney star families. This is Katie Firth, Interim Principal with your weekly update. This is a reminder that there is no school on Monday, Sept 6th due to Labor Day. Please make sure students are wearing sneakers daily. We greatly appreciate everyone's patience and support with our new safer dismissal routine. The school opens its doors for students at 8:15. School starts promptly at 8:30, please make sure you are on time, every minute counts! Attendance matters, we are doing a competition for the whole school to see which class can have the BEST attendance! See you Tuesday on September 7th!

As we start our first full week of school, please remember to complete your Daily COVID Health Checklist. If you check any of the boxes, stay home and call our school nurse hotline at 860-465-2521. Thank you for keeping us in the wellness zone! You can read our Health & Safety Manual For Families & Staff Members online:
www.windhamps.org/page/wellness-zone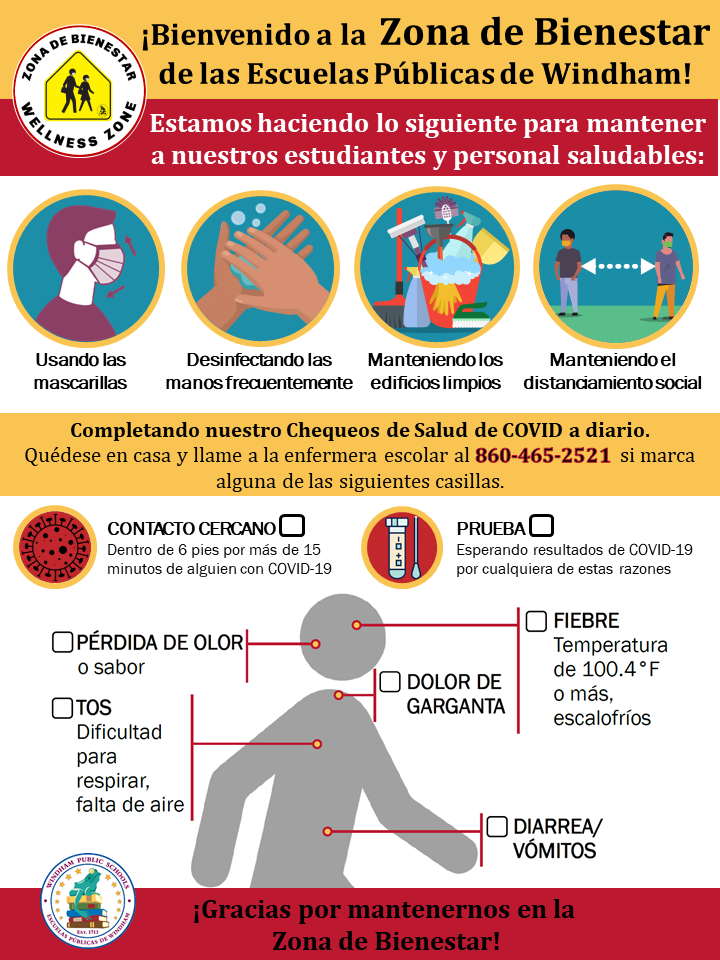 All Windham Public Schools, including C. H. Barrows STEM Academy, are going to have an early dismissal tomorrow, Friday, August 27. Early dismissal times, which can be found on our website (
https://5il.co/t2bd
), are as follows: Windham High School – 11:20am Windham Middle School – 11:40am C. H. Barrows STEM Academy – 12:00pm Sweeney, North Windham, Natchaug, & Windham Center Schools – 12:30 Windham Early Childhood Center – 12:45 We appreciate those families who understand the need to call these early dismissals to ensure safety when we are dealing with excessive heat and a mask mandate in both our classrooms and on our school buses. Looking ahead at the forecast, things should cool off nicely as we end August and start off the month of September.

LAST NIGHT'S UPDATE FROM THE SUPERINTENDENT: This is Dr. Tracy Youngberg, Superintendent of Schools, calling to welcome your children back to school on Thursday, August 26, our first full day together. We are very excited that all of our students will be back in person this school year. I want to remind everyone that masks are mandated in our schools and offices per the Governor's Executive Order. In addition to the mask mandate, we will continue to follow the recommended mitigation strategies designed to prevent the transmission of COVID-19 in our schools. The Department of Public Health continues to view vaccination as the number one prevention strategy. Vaccinations, as you know, are available to anyone 12 years and older. Please visit the district's website for specific details shared with you in video format on how we will work to keep our schools in the Wellness Zone:
www.windhamps.org/page/reopening-covid
Video in English:
www.youtube.com/watch?v=WbeT7yAV_is
Video in Spanish:
www.youtube.com/watch?v=UWNamN1Rlqc
Have a great night everyone, and we will see you for the first day of school on Thursday, August 26.

EVENT POSTPONED! Windham Public School's Welcome Back-Pack Drive has been postponed to Tuesday, August 24 from 3:30-5PM due to the weather. Stop by Recreation Park on Tuesday for a vaccine clinic and a backpack giveaway! One backpack per child present.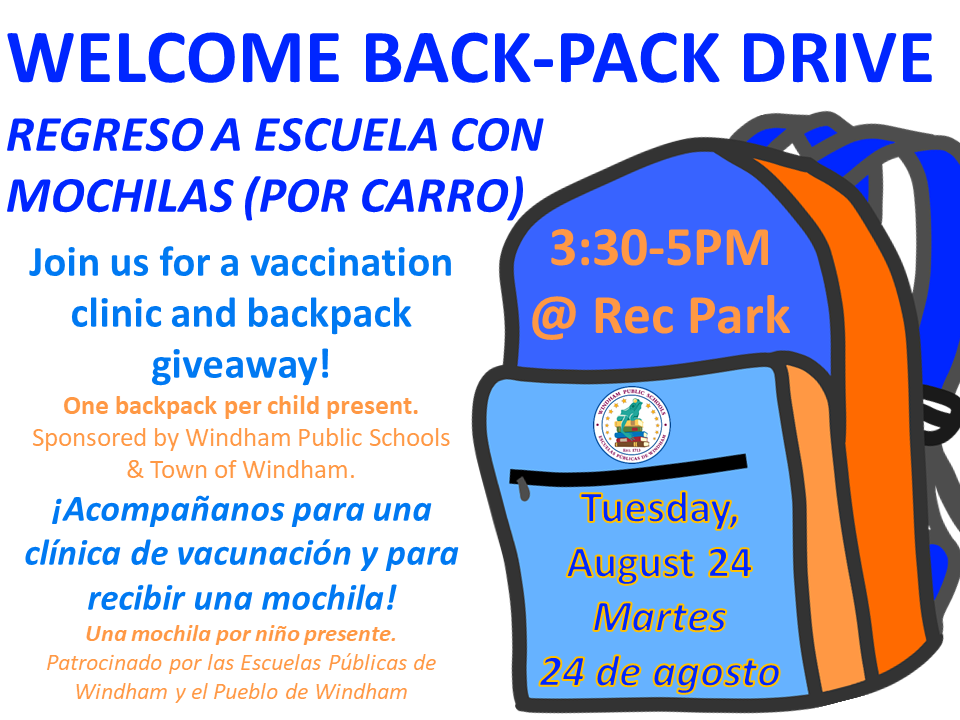 WPS WELCOME BACK-PACK DRIVE: Stop by Rec Park this coming Monday, August 23, 3:30-5PM for a vaccine clinic and a backpack giveaway! One backpack per child present. Subject to change depending on weather.